This Year's Favorite Halloween Party Snacks
This post may contain affiliate links. Read our full disclosure policy.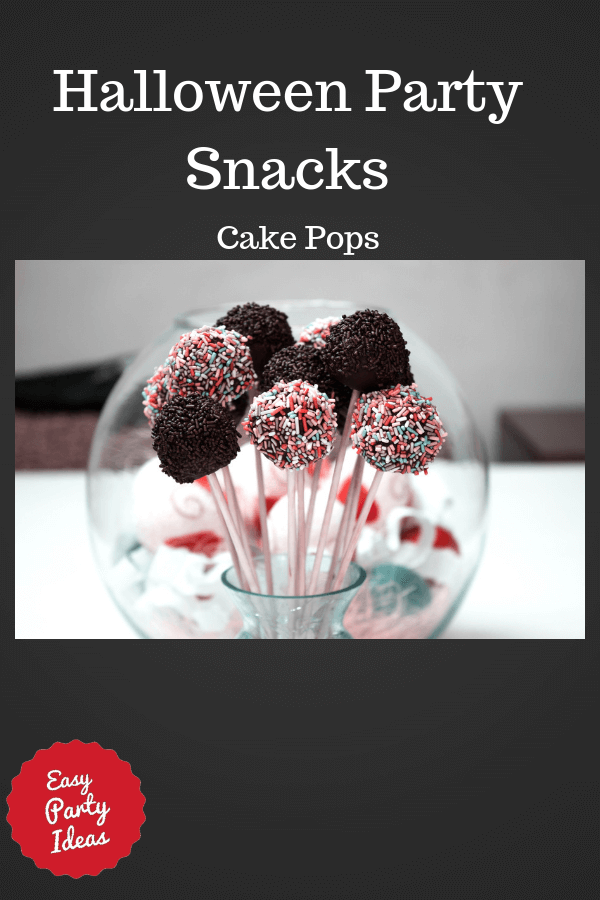 What are the hottest things on the Halloween party snacks menu list for this season?
Cake Balls!
Cake balls are easy to make and you can make some yummy, cute Halloween inspired creations...
Some traditional choices for the Halloween season are to use red velvet cake, or of course the perennial favorite - chocolate!
Ideas for decoration include:
Dip the balls in orange-tinted coating to make little pumpkins (decorate with piping for faces if you wish).
Roll balls in orange and black sprinkles
My personal favorite?
Make white cake balls, add a white coating, and then use black icing for decoration to make little ghost faces!
How to Make Cake Balls for Halloween Party Snacks

You'll need:
One cake mix (plus whatever you need to make the cake)

One can frosting
Almond Bark Coating OR Confectionery Wafer Coating
Oil Based Food Coloring
Vegetable Oil

Your choice of sprinkles or toppings (nuts, coconut, etc.)

Step 1
Bake the cake, and while still warm crumble into a bowl using a hand mixer.

Mix in frosting to make a paste.

Chill for at least 2 hours.

Step 2
Form mixture into 1-1/2 inch balls.

Place balls on wax paper and freeze at least 6 hours.

Step 3
Prepare the coating: If you are using Almond Bark Coating, which is found at the grocery store, melt the package in the microwave on high for 45 seconds, stir, then heat an additional 15 seconds and stir until melted. Be careful not to scorch. You can also use a double boiler.
When melted, stir in 1 teaspoon vegetable oil. If you wish to tint the mixture, use oil-based coloring (not regular food coloring).
If you are using Confectionery Wafer Coating, which is found at cake supply stores and craft stores, melt in the microwave or double boiler and stir in oil-based food coloring. Do NOT add the 1 teaspoon vegetable oil. 

Step 4
Remove a few balls from the freezer at a time and dip into the warm coating using toothpicks or a dipping fork.

Coat with sprinkles or chopped nuts.

Place balls on wax paper to harden.

Step 5
If you wish to dip in sprinkles or add toppings, do so before the original coating sets.
This recipe makes about 2 1/2 dozen balls. Do not refrigerate.
For more cake ball decorating ideas, see our page devoted to Cake Balls!

This site is a participant in the Amazon Services LLC Associates Program, an affiliate advertising program designed to provide a means for sites to earn advertising fees by advertising and linking to amazon.com.

Let's

Connect

!

Spooky Cakes!
Add some more spooky stuff to your table with these Halloween Cakes!