Cake Balls
This post may contain affiliate links. Read our full disclosure policy. 
What are cake balls?
Kind of like a cupcake but different.
They are actually little desserts made by combining cake and frosting and rolling into a ball. Then, the ball is covered with confectionary coating and decorated. Yum!!!!
They are very popular at parties and should be a part of everyone's finger food recipes list.
Cakeballs are easy to make, and you can even use a box cake mix. You'll just need some time for each of the steps. Here is how to do it:
How to Make a Cake "Ball"
You'll need:
one cake mix
one can frosting
Almond Bark Coating or Confectionary Wafer Coating
Step 1
Bake the cake, and while still warm crumble into a bowl using a hand mixer.

Mix in frosting to make a paste.

Chill for at least 2 hours.

Step 2
Form mixture into 1 1/2 inch balls.

Place balls on wax paper and freeze at least 6 hours.

Step 3
Prepare the coating: If you are using Almond Bark Coating, which is found at the grocery store), melt the package in the microwave on high for 45 seconds, stir, then heat an additional 15 seconds and stir until melted. Be careful not to scorch. You can also use a double boiler. When melted, stir in 1 teaspoon vegetable oil. If you wish to tint, use oil-based coloring (not regular food coloring). If you are using Confectionary Wafer Coating (found at cake supply stores and craft stores), melt in the microwave or double boiler and stire in oil-based food coloring. Do not add the 1 teaspoon vegetable oil.
Step 4
Remove a few balls from the freezer at a time and dip into the warm coating using toothpicks or a dipping fork.

Coat with sprinkles or chopped nuts.

Place balls on wax paper to harden.
Step 5
If you wish to drizzle coating on top in zig zag designs before the original coating sets. Makes about 2 1/2 dozen balls. Do not refrigerate.
---
My favorite Cake Ball Combinations

Chocolate cake with chocolate icing and dark chocolate coating with orange sprinkles (for Halloween)
Chocolate Cake with white icing and crushed peppermint (great cake balls for Christmas)

Red Velvet Cake with chocolate frosting, with dark chocolate coating
White Cake with white frosting and chocolate coating
Lemon Cake with lemon frosting and vanilla coating (although I am nuts for lemon/chocolate combos, but know not everyone is :-))
What are your favorite flavors for Cake Balls?
---
Cake Pops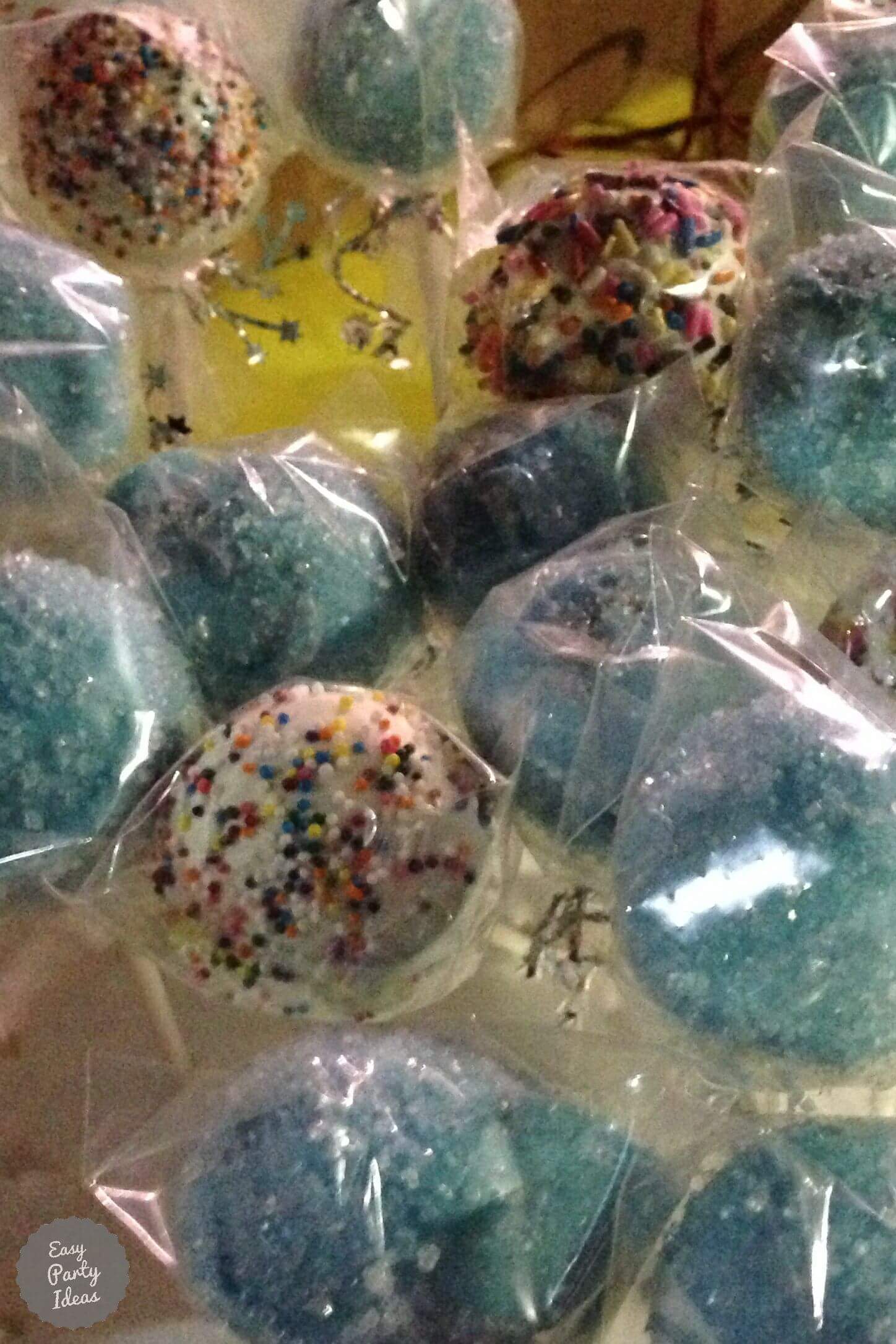 Cake Pops, Packaged for a Bake Sale
Cake Pops are essentially cake balls that have been put on a stick! These are great for bake sales as a single treat because of the stick. You can make them in the same way as cake balls, or you can use a cake pop maker to make perfectly round balls easily!

This site is a participant in the Amazon Services LLC Associates Program, an affiliate advertising program designed to provide a means for sites to earn advertising fees by advertising and linking to amazon.com.

Let's

Connect

!

Plan Your Party