Cahootie
This post may contain affiliate links. Read our full disclosure policy. 
Have you heard of Cahootie?
Just about everyone has played the folded paper fortune telling game (sometimes called a cootie catcher). You know, the one made out of folded paper and you select and lift the flaps to tell your fortune The game has been around forever, and there is a reason why. It's fun! Now...let's take it to the next level!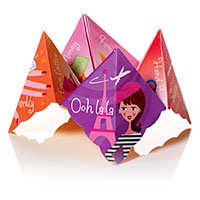 How?
You can purchase cahooties, and they are made from a really durable laminated paper with very colorful and fun graphics.
They seem able to hold up to lots and lots of play.
But do you want to know what I really like about this product?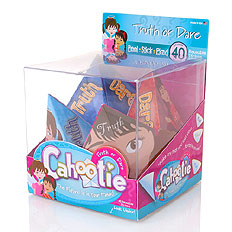 Cahootie Reviews
From the Tween Experts
I was sent a sample and had the opportunity to test it with a group of tween girls, ages 8 - 13.
The girls squealed when they saw it! There was excitement before it was even open due to some colorful and attractive packaging, which showcases the product. The version we had to sample was "My Fab Family".
They had fun playing with it and then gave me their feedback. They thought it would be perfect for a small group of friends to play with (or even alone), and they thought it would make a great slumber party game or something to play anytime you are hanging out with friends. It would also be nice to have in the car as a road trip game. They agreed that it would make a fun birthday gift for the "friend who has everything".
Cahootie Party Ideas:
I'm often asked about fun (and safe) ways to play Truth or Dare, one of the most popular slumber party games on the planet. Ta da! - they make a Truth or Dare Cahootie!
Also available is a "Party Pack" that includes six different themes (with reusable stickers): Wishes & Dreams, Truth or Dare, My Fab Future, Would You, Best Friends Forever and Birthday Wishes. I can imagine girls having fun trading them and playing the different versions.
What else?
According to their website, the company who makes this product is "focused on developing engaging products and experiences for tweens that promote self esteem and connection among family and friends." Gotta love that!
Best part? The price tag is very affordable too, so it won't break the bank.
Ready to try one for yourself?
They are available at select toy and gift retailers, and online at amazon.com.
This site is a participant in the Amazon Services LLC Associates Program, an affiliate advertising program designed to provide a means for sites to earn advertising fees by advertising and linking to amazon.com.

Let's

Connect

!

Plan Your Party
How to Plan your First Slumber Party