Boat Cake Ideas
This site contains affiliate links to products I recommend, many of which I use and love. If you click on a link and make a purchase, I may receive a small commission at no additional cost to you. This helps keep the info on this site free of charge! Get the scoop here.
Options for Boat Cakes are limitless ... these cakes having to do with water and boats are varied and can take all sort of forms. Here are a few fun cake decorating ideas for you...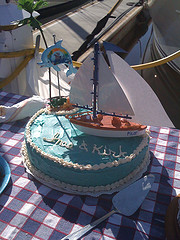 Photo by: http://www.flickr.com/photos/aghrivaine/ / CC BY 2.0

The easiest way to make a boat themed cake is to make the cake blue to resemble the water, and placing a boat on top, like these examples show.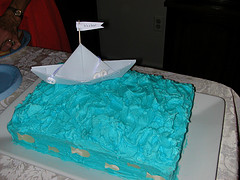 Photo by: http://www.flickr.com/photos/natapics/ / CC BY 2.0

A cake with a boat theme is sure to please any water lover.  
As another idea, you can also draw a boat on the cake.
Shaped Boat Cake Pans
If you love cakes that come in shapes, how about shopping for a boat cake pan? There are several options, both new and retired, that are available online.
Pirate Ship Cakes
Pirates are always a fun option, and they happen to use boats! You can adapt a pirate ship cake to be the boat of your dreams!

Show Off Your Cake!
Show us your great cake and tell us how you did it!
This site is a participant in the Amazon Services LLC Associates Program, an affiliate advertising program designed to provide a means for sites to earn advertising fees by advertising and linking to amazon.com.

Let's

Connect

!

Water Cakes
Other fun water related homemade birthday cake ideas are: