Army Cake Ideas
This post may contain affiliate links. Read our full disclosure policy. 
Serve this army cake at your next army or military themed party for a big bang!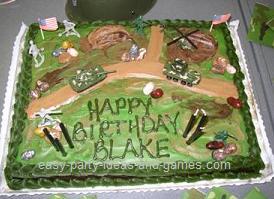 You could also use a military cake like this for a Capture the Flag Party.
It would also be appropriate for a army reunion, patriotic holiday, or in honor of someone in the service. 
Start with a rectangular shaped cake in the flavor of your choice.
Add flags, toy soldiers and vehicles, along with the "terrain" of your choice.
The example shown here is green, to represent grass, but you could also do a light brown icing, and even dust it with graham cracker crumbs to resemble sand for a desert theme!
You can often find small toy army men at the $1 store near you.
~Cake shared by my friend Shannon 



Show Off Your Cake!
Show us your great cake and tell us how you did it!
Cakes submitted by our visitors
Click below to see contributions from other visitors to this page...

Army Tank Cake #2 Not rated yet
Again, my son wanted an Army Tank cake like the one from the year before but a different color. He was into the "Urban camo, red, white, and black." So …
Army Tank Cake Not rated yet
My son wanted an army tank cake for his 9th birthday. Took a little imagination for the decorations, but he was really happy and I was proud how it turned …
This site is a participant in the Amazon Services LLC Associates Program, an affiliate advertising program designed to provide a means for sites to earn advertising fees by advertising and linking to amazon.com.

Let's

Connect

!

More Army Cake and Military Theme Ideas