TV Cake and Remote Control Designs
This site contains affiliate links, meaning if you click on the link and make a purchase, I may receive a small commission (at no cost to you!) I only recommend products I've personally used or would love to use myself! Get the scoop here.

A TV Cake? Remote Control Cake? Sure!
I'm often asked for fun cake designs for an adult birthday party cake.
I always return the question with "what do they like to do?"
Probably the #1 answer I get is something along the lines of "watch tv", "watch sports on tv", "watch movies on tv" and even "spend time on the computer" and so on.
So a cake centered around screen time - whether it be a television or computer would be a fun idea and probably relatable to lots of folks!
This can be a pretty simple idea to pull off too, because you could use a rectangular cake and make the cake be the tv screen or computer screen, adding buttons or knobs as needed.
Look familiar?
Here is an image of an easy TV Cake idea...asleep on the sofa with the TV on - look and sound familiar at your house? Create your decorations out of fondant or just use toy sofas and people from a toy dollhouse collection.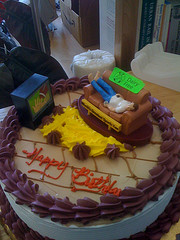 Photo by: http://www.flickr.com/photos/shazbot/ / CC BY 2.0
Who's got the Remote (Cake)? 
It is always missing, isn't it? You won't lose the remote when it is made of cake!
Create a cake like this one to look like a remote control using candies as your buttons.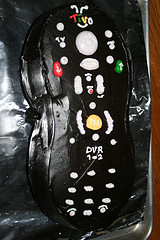 Photo by: http://www.flickr.com/photos/jasonmundy/ / CC BY 2.0
Computer Cake Pans
If we aren't on the TV, we are probably on a computer, right? Wilson used to make a Computer Cake Pan. You may be able to find one online. You could also put computer related objects on top of the cake, like an old flash drive, CDs, even floppy disks (showing my age here...)
For some images of computer cakes that others have made, visit our page of computer cakes.

Computer and TV Cake Edible Images
Sometimes paying hommage to your favorite TV show, game or app could be just what you are looking for. The easiest way to get a great cake for this would be to use an edible image on the cake. You can now make your own at home! These options for
edible cake images
(Affiliate Link) may be just what you are looking for!
Other devices...
We are a product of our times, right?
Consider other possible things that would be technology driven - for ideas, check out the page on iPhone Cakes.
Show Off Your Cake!
Show us your great cake and tell us how you did it!
This site is a participant in the Amazon Services LLC Associates Program, an affiliate advertising program designed to provide a means for sites to earn advertising fees by advertising and linking to amazon.com.

Let's

Connect

!

Don't miss these ideas to go with this Cake...