Spider Cake
This post may contain affiliate links. Read our full disclosure policy. 
What a great spider cake! I never thought I'd want to eat a spider until I saw this cake!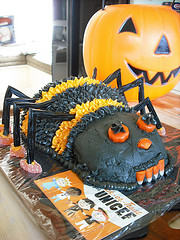 Photo by: http://www.flickr.com/photos/idogcow/ / CC BY 2.0
I think this cake shaped like a spider is really neat because it uses both orange and black, so you are using both of the Halloween colors. And the candy corn pointy teeth are a neat touch too.
Perfect for a Halloween party or anytime that spiders are being celebrated!
If you'd rather do a cupcake, check out our spider cupcake example.
This site is a participant in the Amazon Services LLC Associates Program, an affiliate advertising program designed to provide a means for sites to earn advertising fees by advertising and linking to amazon.com.

Let's

Connect

!

More Creepy Cakes