Pumpkin Cake
This post may contain affiliate links. Read our full disclosure policy. 
People have been carving lanterns out of turnips, beets and potatoes for centuries. The tradition was brought to America and pumpkins, a native crop, was found to be perfect for carving.
No need to carve this though - until you are ready to serve!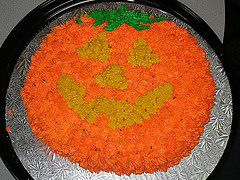 Photo by: https://www.flickr.com/photos/mukluk/ / CC BY 2.0
Easy Cake Pans
Another idea is to us a
pumpkin or jackolantern cake pan
. This makes a cute and easy way to create a great cake. Just bake and decorate your shape!
3D Cakes
You can also use a round
ball cake pan
and decorate to look like a jack-o-lantern. Using a ball cake pan, you'll have a really cute 3-D effect, and the cake pan is really useful to have for future cake designs.
This site is a participant in the Amazon Services LLC Associates Program, an affiliate advertising program designed to provide a means for sites to earn advertising fees by advertising and linking to amazon.com.

Halloween Cake Supplies
Ready to get started?