Minnie Mouse Party
This post may contain affiliate links. Read our full disclosure policy. 
One year after a trip to Disneyland my daughter wanted a Minnie Mouse party for her 6th birthday party.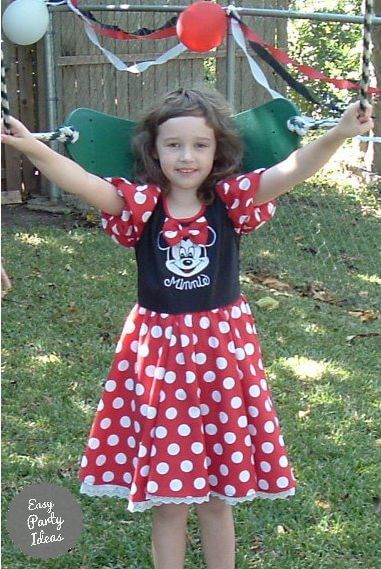 Birthday Girl Ready to Start the Party!
Minnie Mouse Party Decorations
To start with, I'll tell you that this was one of my favorite parties of all time. And I had to start from scratch - at that time I couldn't find any kid party ideas that related to Minnie Mouse in my online searched.

We also couldn't find any party merchandise that was in Minnie's red and white polka dot colors, so we did everything in red, black and white. Streamers, balloons, and lots of them. (I love those color combinations together!)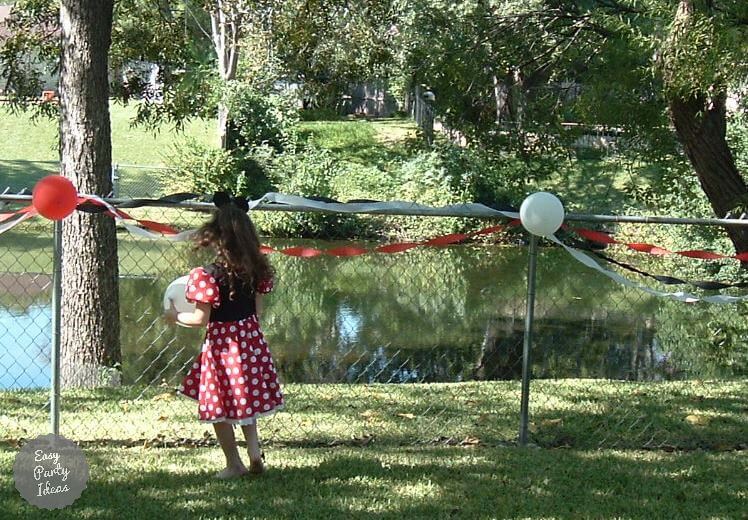 I found some red fabric with white polka dots - just like Minnie's dress! It was perfect for the cake and gift table.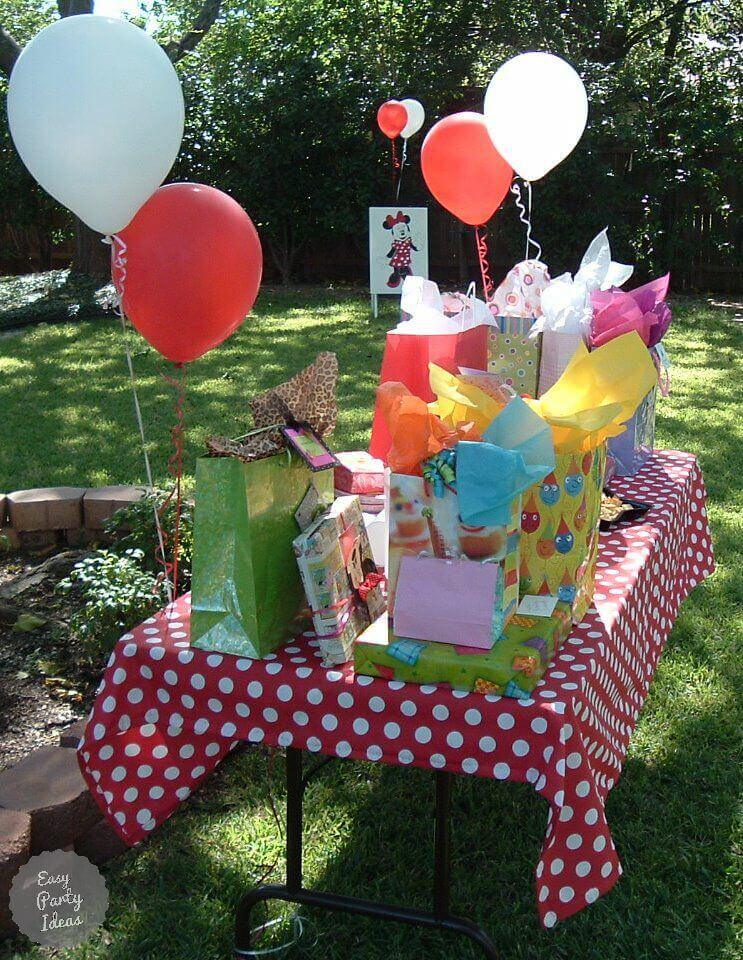 I found this great Minnie Mouse Pinata at a local pinata store, but after playing with it and having tea parties with it in the weeks leading up to the party we just couldn't bear to break her open! So she became a party decoration instead, and we made a pinata (keep scrolling to see it!)

Party Setup
For invitations, I used black card stock and cut out the mouse head and ear shape and added a red and white polka dot bow on top. On the back of the invitation I glued on the party details printed on white paper.  
For a cake we had a red round cake and covered it with large white polka dots. It was so cute!
For favors we gave Minnie Mouse bean bag type dolls (although any Minnie Mouse item could do!) I found them on clearance at the Disney store.
---
Minnie Mouse Party Arrival Activity

As each guest arrived they crawled thru a "mouse hole" (hole in a cardboard box) to get to the party area. They were turned into mice by given a "mouse ears" headband. These were made by covering a headband with black grosgrain ribbon and hotgluing two black craft foam mouse ear shapes to the top of the headband. Between the ears was a red and white polka dot ribbon.
---
Fun Kid Party Games at our Minnie Mouse Party
Balloon game - try to keep a red, white or black balloon in the air.
Minnie Mouse Party Balloon Game
Hunt - hunting for pretend wedges of cheese.
Ring around the Cheese (basically Ring Around the Rosie!)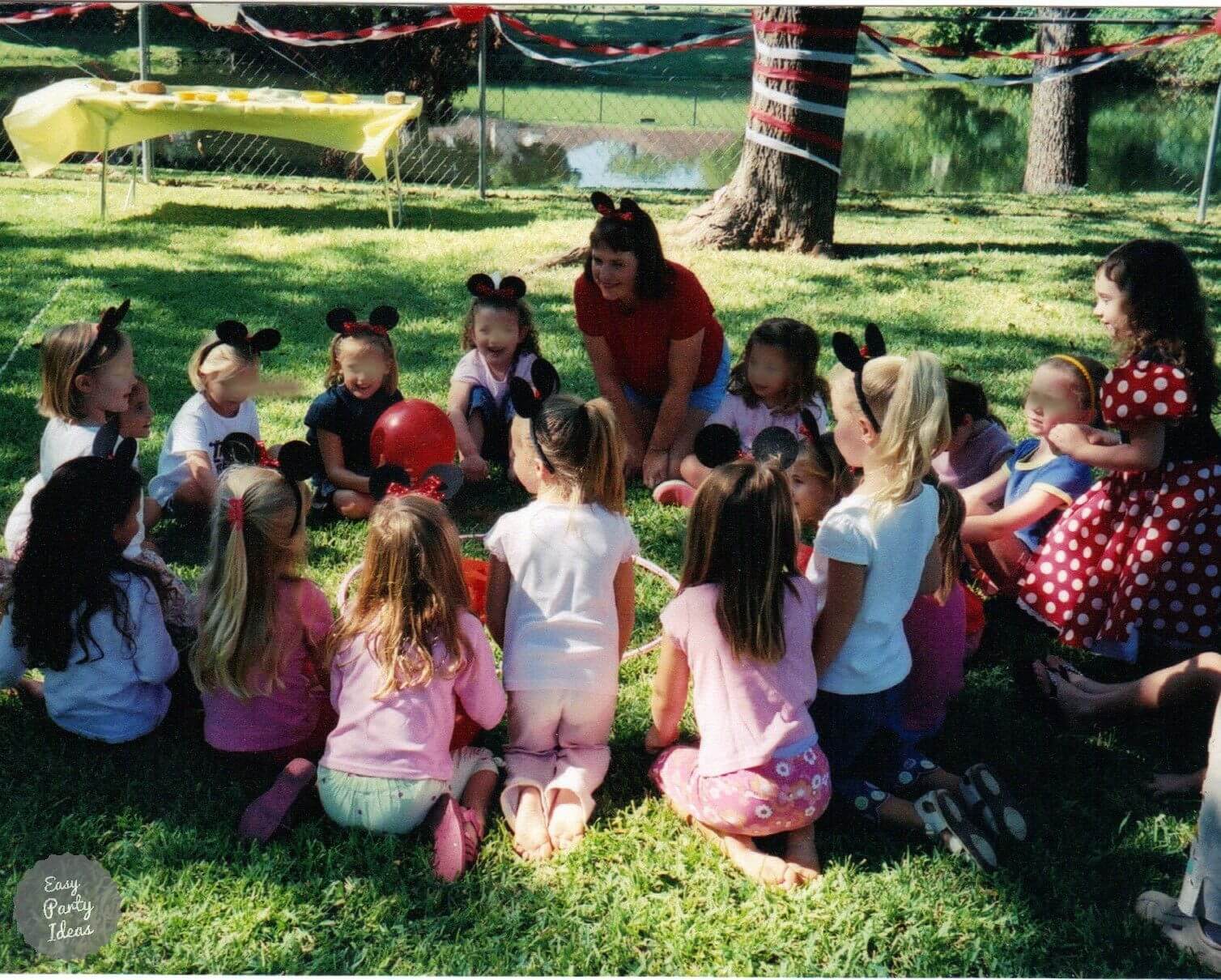 "Minnie says" (Simon Says)
Cat and Mouse Game - Place a strip of tape on the ground. The "cat" is on one side of the tape, and the "mice" are on the other side. The cat jumps over the tape and all the mice have to run to the other side before getting caught.
Hot Potato Game (but with a wedge of cheese)
Kitty Cat Kitty Cat are you hungry? Basically our favorite  "Monster Monster" game, but this time the "monster" is a cat, since the kids are all mice!
We also divided all the guests into two groups - one group did "Pin the Bow on Minnie" while the other group did a Bean Bag Toss into Minnie's mouth, then the two groups switched. We made both of the games ourselves.

Minnie Mouse Bean Bag Toss Game
We also had a homemade pinata made by blowing up 3 balloons and taping them together to from the Disney mouse head shape. After covering with newspaper and glue and it drying, we decorated it with black tissue and crepe paper and placed a giant red tissue paper bow on top.
All of these games listed above can be found on our kids party games page.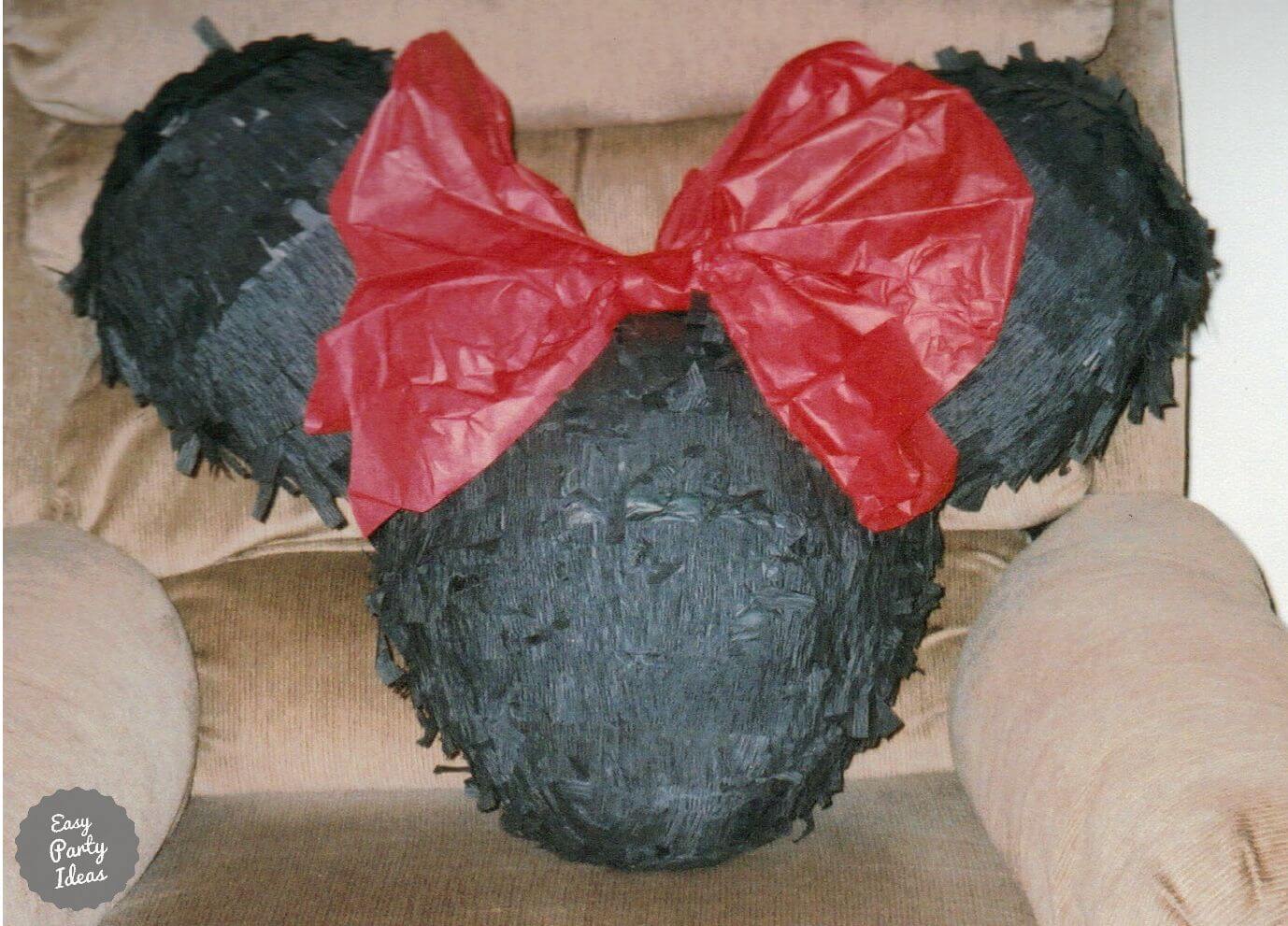 ---
Minnie Mouse Cake Ideas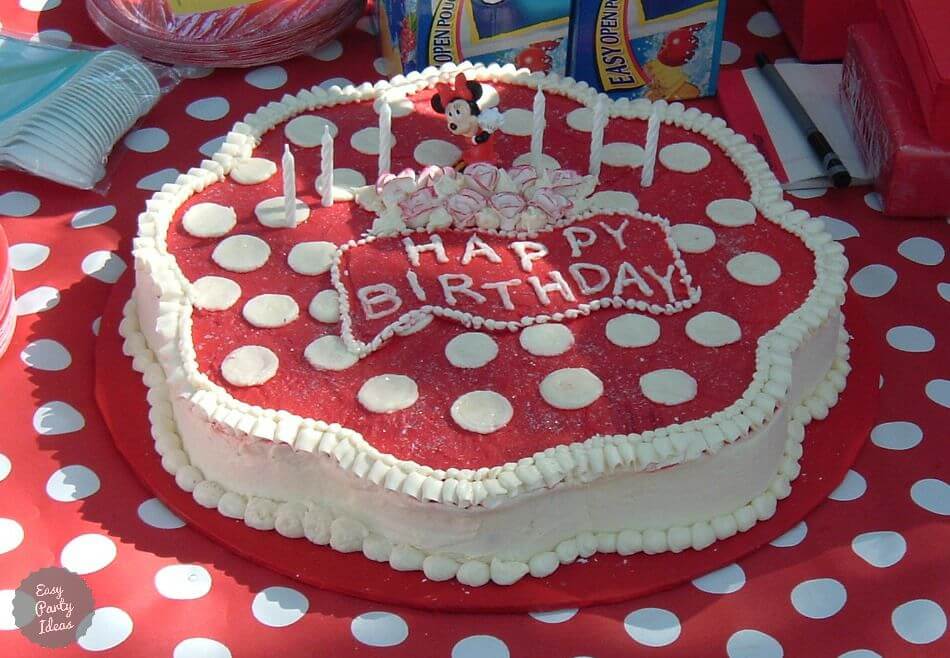 The birthday girl LOVED her Minnie Mouse birthday cake!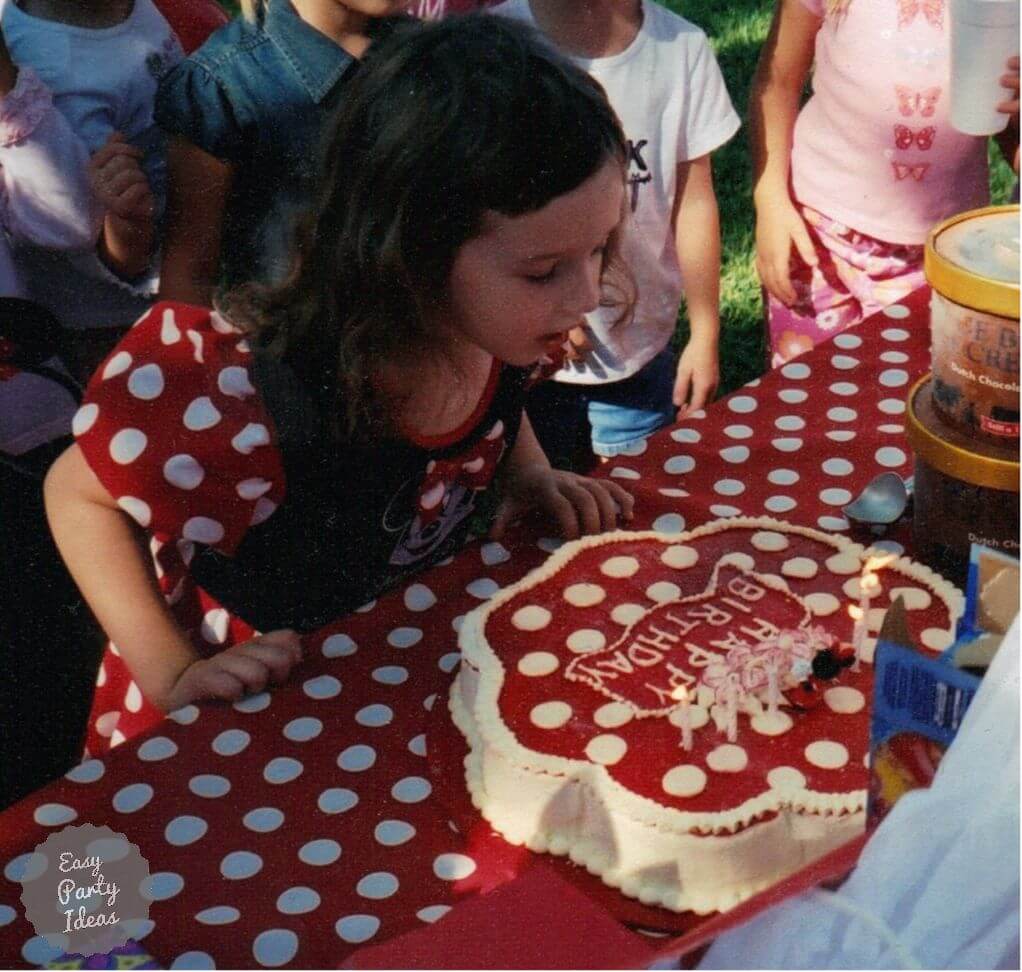 Kid Party Ideas
Do you have a great kid party idea or game?

Share your ideas and photos here, and they will be added to this site to help other moms & dads everywhere!

You can leave comments and questions here too!
This site is a participant in the Amazon Services LLC Associates Program, an affiliate advertising program designed to provide a means for sites to earn advertising fees by advertising and linking to amazon.com.

Let's

Connect

!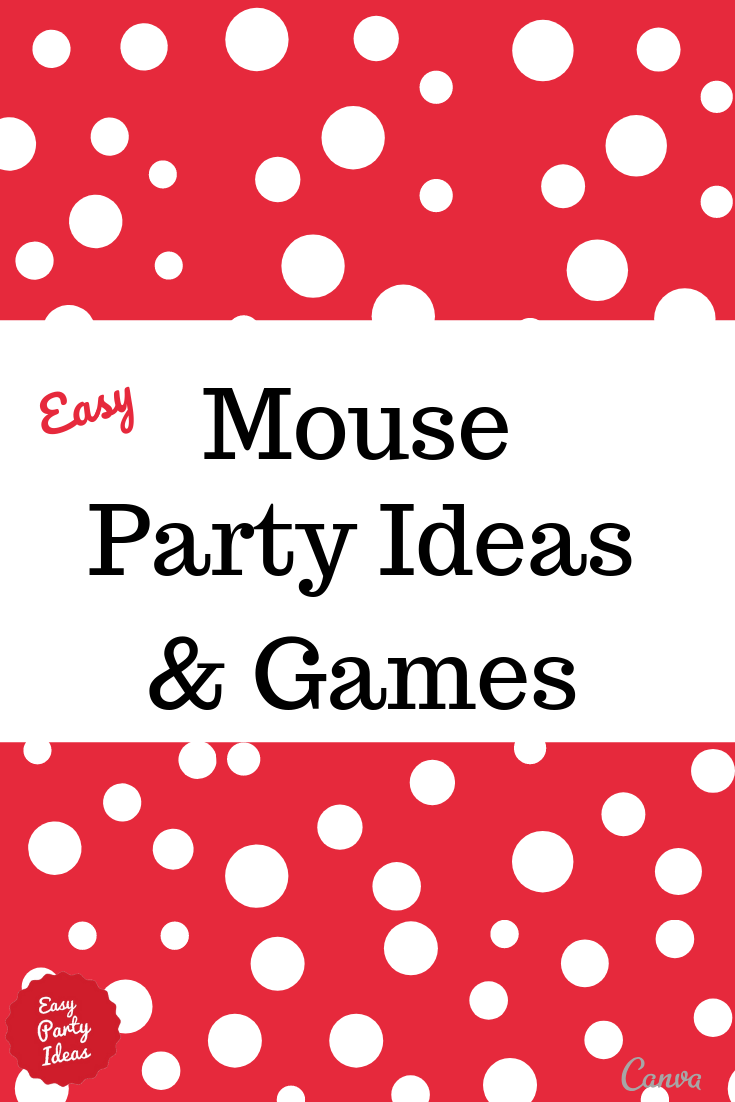 Great Party Resources
Discount Links for Party Supplies for your Minnie Mouse party
Minnie Mouse Party Supplies at Amazon.com