Halloween Party Appetizers
Festive Halloween Trail Mix and Popcorn Mix Ideas
This post may contain affiliate links. Read our full disclosure policy.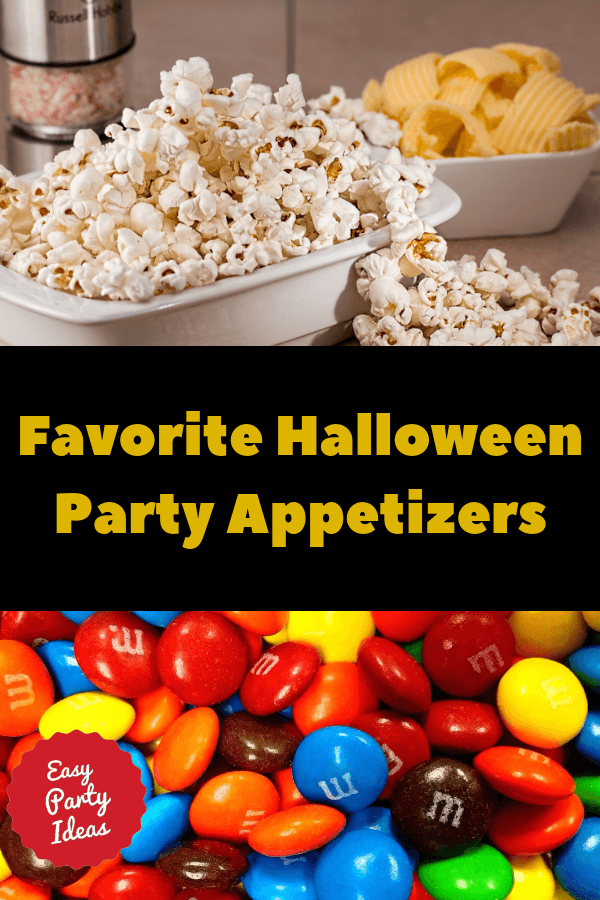 Halloween party appetizers are great a great addition to your party because they are often finger foods, and can be easy to adapt to a theme. 
A very popular mix that is appearing at lots of parties on the appetizer table is a sort of "Halloween Trail Mix." Sometimes it is called a "Halloween Trash Mix."
To make this Halloween snack, you get a large bowl and pour in the ingredients of your choice. It varies from party to party, but the usual items include a mix of the following:
Candy corn
Mixed nuts
M&Ms (just using orange and black would be awesome!) or Chocolate Chips
Pretzels
Chex Mix
This trail mix recipe is great snack mix of sweet and savory.
Some folks like to mix in marshmallows and raisins too.
Make your own combination but make sure to include the candy corn - that adds a definite Halloween theme to your appetizer!
Not just something to set out on your table at a Halloween party, you can also bag this up as a Halloween treat any time during the season!
How to Make Homemade Halloween Tortilla Chips
A friend of mine told me how to make homemade tortilla chips, and they are so easy and yummy!
Simply heat your oven to 350 degrees, and pull out your corn tortillas. Cut them into triangle wedges and lay in a single layer on a baking sheet. Add a little salt and bake, about 6 minutes. Turn over with tongs, resalt and continue to bake. My friend likes to put a little lime juice on hers before baking for added flavor!
You can make these extra fun for Halloween by cutting the tortillas into Halloween shapes before baking. Use Halloween cookie cutters to create your shapes!

More Halloween Party Appetizers Mixes

Here are a couple of more recipes, using caramel corn, nuts, candy corn and dried fruit.
Favorite dried fruit options include raisins, dried apricots, cranberries, mangos, and bananas.
Mix ingredients in the proportion that you like best!
Caramel Popcorn Mix
Mix the following and serve:
Caramel corn

Mixed nuts
Candy corn
Dried fruit 
Caramel Popcorn Mix #2
Mix the following and serve:
Caramel corn
Mixed Nuts
Candy corn
Dried fruit
Mini-pretzels
Chocolate chips

Gummy worms

Check out our pages of more Halloween party appetizers and foods. You are sure to find something that you will want to serve at your next Halloween party.
Have A Great Party Recipe?
Do you have a great party recipe to share? Post it!
This site is a participant in the Amazon Services LLC Associates Program, an affiliate advertising program designed to provide a means for sites to earn advertising fees by advertising and linking to amazon.com.

Let's

Connect

!

Trending Halloween Pages
Halloween Party Games for any age!
Teenager Halloween Party Ideas