Fourth of July Parade
This post may contain affiliate links. Read our full disclosure policy. 
How about getting everyone together for a Fourth of July parade in your neighborhood? Or how about a block party?
How to Host a Fourth of July Parade
Gather the neighborhood kids for a parade. Kids can use patriotic decorations to

decorate their bik

es, scooters, tricycles and strollers.


Close traffic in the street where you'll be having the parade (check with your local government for any restrictions on doing this or to obtain permits). Use traffic cones or barricades to block the street. If the parade will be strictly kids (as in my neighborhood) the parade route doesn't have to be long. Ours is just a couple blocks.


Publicize! You'll want kids to come out and participate, as well as households without kids to come and watch!

Set up a starting point and a finish line, and clearly mark them on the street with sidewalk chalk.

Have someone bring a portable speaker so you can play Stars and Stripes forever and other patriotic Sousa-style marching music.

Have plenty of volunteers available to help tell people where to go to line up.


Set out lemonade, watermelon, a flag cake and other fun snacks, or have a potluck. Focus on finger foods.


Invite the local fire department or police. Kids will love climbing on the fire truck or sitting in the police cruiser. Or maybe someone could give a tractor or hay ride. One year at our neighborhood event, a person who owned an old Model T brought it and gave people a ride around the block.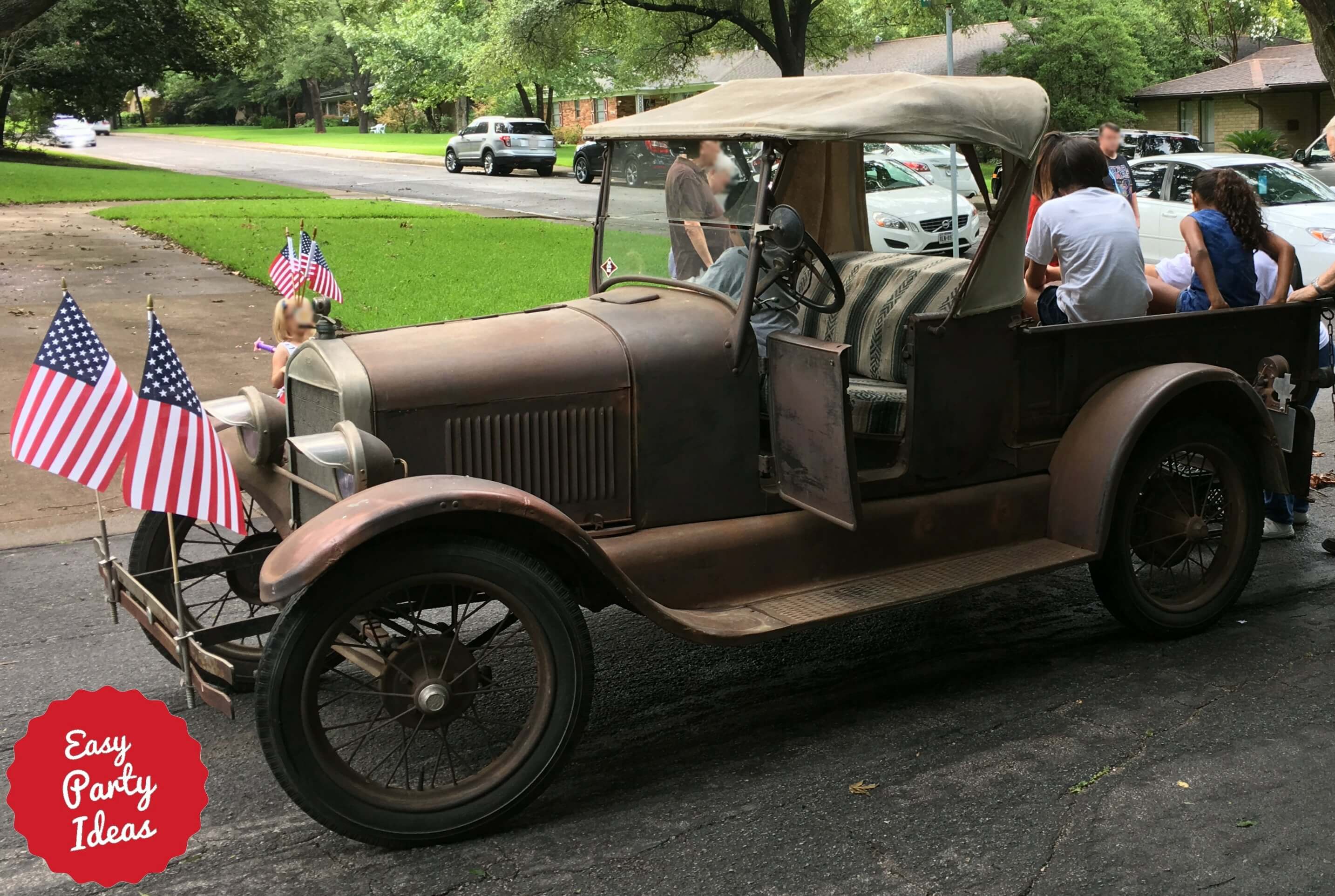 After the parade, play some of the great games off our

water games list

to keep cool.


For younger children, set out some plastic pools and fill them with water. Have lots of soaker tubes, water guns, and such. Hook up a sprinkler to play in if you can! You can also fill tubs with bubbles and provide lots of wands.


Kids love face painting. Buy some face paint in red, white and blue and try your hand in advance at making stars, flags or fireworks.

Let well-behaved pets who are used to crowds get in on the action! Dress them up in patriotic bandanas. As a matter of fact, you could organize a July 4th Pet Parade just for them!
4th of July Parade To Do List
Don't worry! Here is a handy list to help you prepare!

Prior to your Fourth of July Parade
Select a location for the parade
Check with city ordinances in case you need permission to close the street
Obtain traffic cones or barricades to close the street, as well as chalk to mark the street
Publicize the parade to neighborhood children. Tell them to decorate their bikes, trikes, wagons and strollers.
Organize volunteers to tell people where to line up.
Organize volunteers to bring food and tables for the food. Don't forget to bring trash bags for easy cleanup. 
Organize someone to bring a portable speaker and have a music playlist ready.
Organize any water activities to help folks stay cool as well as any extra activities (face painting, fire truck or police car, tractor rides, etc.)

Organize any patriotic decorations.
Organize a clean up committee to help at the end of the event with anything that needs to doing.

Easy Shopping List
1.
Traffic cones
2.
Sidewalk Chalk
3.
Face paint
4.
Patriotic Pinwheels to stick in the ground
5.
Keep everyone cool with Patriotic Fans
6.
Patriotic Decorating Kit
7.
Hang a Patriotic Pinata for after the parade
What to do the Day of your Fourth of July Parade
Arrive early to set up.
Setup cones/barricades.
Mark street for starting and finish lines.

Set up food tables/trash cans.
Have fun!
This site is a participant in the Amazon Services LLC Associates Program, an affiliate advertising program designed to provide a means for sites to earn advertising fees by advertising and linking to amazon.com.

Let's

Connect

!

Looking for a smaller, backyard party instead? Lots of great ideas to make your celebration fun and unique. A party to remember!