Fairy Cake Ideas
This post may contain affiliate links. Read our full disclosure policy. 
This darling toadstool fairy cake design is truly unique so I had to share it!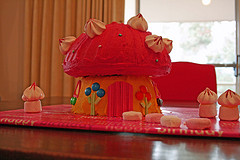 Photo by: http://www.flickr.com/photos/9417976@N03/ / CC BY 2.0

Another cake option for a fairy party is to add some fairy figurines to the top of a cake.
And what do fairies love? Flowers, and all things of nature. So as another option, a flower or daisy cake would be loved by all your little fairy guests!

Fairy Food (in addition to Fairy Cake)
Site visitor Olivia from Australia shared a recipe for Fairy Bread. She says "this is a great party treat for all ages"
Fairy Bread

Ingredients:
White bread
100's & 1000's
margarine
1. get a piece of white bread and cut it in half so its a triangle
2. spread all the pieces of white bread with margarine
3. sprinkle 100's & 1000's all over the white bread
4. EAT AND ENJOY
Show Off Your Cake!
Show us your great cake and tell us how you did it!
Cakes submitted by our visitors
Click below to see contributions from other visitors to this page...
Flower Fairy Giant Cupcake - This cake was for my daughter's eighth birthday party. She wanted a flower fairy party... but she also wanted one of

This site is a participant in the Amazon Services LLC Associates Program, an affiliate advertising program designed to provide a means for sites to earn advertising fees by advertising and linking to amazon.com.

Let's

Connect

!