Cat Cake Ideas
This post may contain affiliate links. Read our full disclosure policy. 
Kids love animals, especially dogs and cats. A cat party deserves a super cute cake!
This adorable Cat Cake was made using a
cat cake pan
. This particular pan has been discontinued, but there are other options available!
---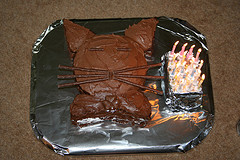 Photo by: http://www.flickr.com/photos/ndrwfgg/ / CC BY 2.0

Other ideas for a cat themed cake would be using a Hello Kitty cake design and adapting the colors to the cat of your choice!
Now, I'll tell you that at my house, we celebrate our pet's birthdays. Having two black cats at the moment, this cake could be perfect to celebrate their birthdays too!
This cake was made by using a round cake pan for the head shape, and then cutting cake shapes from another pan cake to make the ears, etc.
You can also purchase a cake pan in the shape of a cat. Then just use your favorite colors!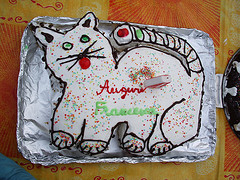 Photo by: http://www.flickr.com/photos/dinogen/ / CC BY 2.0
---
Hello Kitty Cakes

The most popular cat around has to be Hello Kitty! She is so popular, she has her own page of cakes!
Visit Page of Hello Kitty Cakes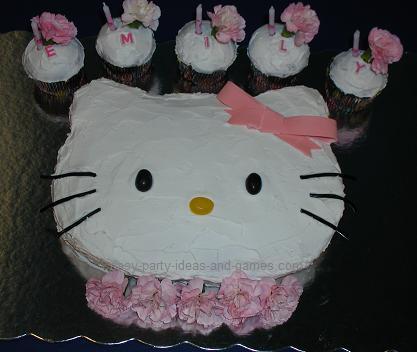 Favorite Cat Party Game!
This is our favorite cat party game!
To play, you get one person (usually my husband) as the "Puppy", who will stand at one end of the yard. The kids are at the other end of the yard, and they are the "Cats". The kids yell together, "Puppy Dog, Puppy Dog, are you hungry?" to which the Puppy will say "No, not really, come closer". The kids will all come a little closer and ask the question again. This happens over and over, until the Puppy Dog finally answers "Yes!" At this point it becomes a game of tag as he tries to catch as many children as possible and they become Puppies too. The game starts over, with the new puppies on one side of the yard and the other kids ("cats") at the other side of the yard.
This site is a participant in the Amazon Services LLC Associates Program, an affiliate advertising program designed to provide a means for sites to earn advertising fees by advertising and linking to amazon.com.

Let's

Connect

!

More Cat Fun
Share photos of your best cat cake!