Creating Great Gift Baskets
As an Amazon Associate I earn from qualifying purchases. Other links on this site may lead to other companies that I'm associated with.
Putting together great gift baskets can be easy if you know how!
When you give a basket as a gift, you can purchase a collection of several small things and, when put together in an attractive basket you've created a really special present!
These can grow to really big proportions, making a really impressive presentation, particularly if you have several people contributing items to the basket.
Gift Card Gift Baskets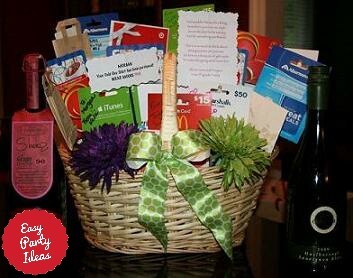 This gift card basket was made for a family who had a little girl with a long stay in the hospital.

School friends who wanted to participate each contributed a gift card.

Gift cards were for restaurants, fast food, stores, and grocery stores. There were even manicure/pedicure gift cards for mom as well as a couple of bottles of wine! :-)

The photo above is of the completed gift basket full of gift cards!
Making your Baskets Beautiful
Here are the steps to create your gift...
Find a basket, bowl, or whatever you want to fill. Just make sure that it will be large enough to hold the things you have purchased.


Ball up some tissue paper into large balls and put in the bottom of your container. This creates a colorful base, but also helps to raise up the items in the basket so they can be seen better. Part of the reason for creating the basket is for the "wow!" presentation factor.


If your balled up tissue paper is a plain white, you can cover the top of with whatever you wish to make it more colorful or add more texture – crinkle paper, more tissue paper, even Spanish moss!


Fill the container with your goodies. Start with your largest and heaviest item, and create a "hole" for it among the tissue paper balls. Continue with your other items, making sure that it looks balanced.


Add something "extra" at the end such as some greenery and a bow.

Voila! You're done!

Help Creating your Basket
No time to do it yourself, but you still want to be involved in creating it? Then you are in luck! This website is an affiliate of a resource you'll want to explore, where you can create your own custom baskets at Design it Yourself Gift Baskets.com.

This company has every basket you can think of available to order, and you can customize it too. You'll find all price ranges as well, allowing you to design the perfect gift. Even if you don't want to order something, you'll definitely find some inspiration and ideas for things to include in your basket.




This site is a participant in the Amazon Services LLC Associates Program, an affiliate advertising program designed to provide a means for sites to earn advertising fees by advertising and linking to amazon.com.

Let's

Connect

!