Half Birthday Cake
This post may contain affiliate links. Read our full disclosure policy. 
If you celebrate a 1/2 birthday, then you might consider this easy party cake. It is just half of a cake!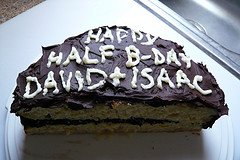 Photo by http://www.flickr.com/photos/jm_photos/ / CC BY 2.0
Why would you celebrate a half birthday?
Some people, especially children, celebrate half birthdays.
When a birthday falls in the summer, they may be away (or all their friends/prospective guests might be away), so they opt for a 1/2 birthday party when they are 5 1/2, 8 1/2, or whatever. That way the party falls during the school year. A smaller family celebration might happen at the time of the actual birthday.
Even if you aren't having a party, it is still fun to celebrate a half birthday with a simple cake at supper!
Show Off Your Cake!
Show us your great cake and tell us how you did it!
This site is a participant in the Amazon Services LLC Associates Program, an affiliate advertising program designed to provide a means for sites to earn advertising fees by advertising and linking to amazon.com.

Let's

Connect

!