Wrapping Gifts
by Patricia T.
(PA)
Mom and I gather our gifts for other family members and wrap them together. It's nice to spend time together, and we are able to use up wrap that might be too small for some packages.
Games
by Rose
Every year after Christmas dinner we get board games out and the entire family joins in. We sometimes have 3 or 4 different games going at once.
Eating
by Jean
(Trinity, AL, USA)
Eat and eat and eat!
Baking Together
by Patricia T.
(PA)
Each year Mom and I bake hundreds of cookies to share with relatives and friends. We listen to Christmas music as we bake.
Togetherness
by Patricia T.
(PA)
We go to the grandkid's Christmas concert at school.
Christmas Party Ideas on a Budget
by Arunandko
Everyone needs budget this Christmas.

Our favorite cost saving ideas are a celebration at home with a Christmas movie family night, a night with friends and neighbors having Christmas carol sing-alongs or gathering together to taste and exchange favorite Christmas recipes.

Click here to read or post comments
Have a Christmas Eve Get Together and Celebrate Heritage
by Patricia T.
(PA)
Our family serves traditional Slovish food for Christmas Eve with extended family of aunts, uncles, cousins and close friends.
Together Time
by Patricia T.
(PA)
We like to sing Christmas carols together.
Our Christmas Tradition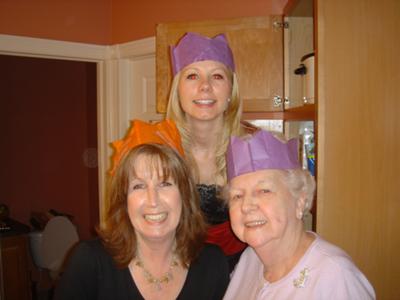 Christmas Cracker Paper Hats can make
a fun Christmas party game!
Every Christmas each family member gets a Christmas cracker (popper). We all read our riddles or jokes inside. Then we put on our paper hats. The contest begins to see who can keep their hat on the longest. Those with hats of the same color comprise a team. Last year we actually had a prize for the winner.
Click here to read or post comments
A Christmas of Sharing
Our local hospital allows visitors to Pediatric units for children that are well enough to have guests. Each member of the family brings a present to the family gathering and we write individual cards for each of the gifts that all of the family members sign. On Christmas, a group of us deliver the packages to the hospital and stay for a visit if they allow it that day.
Hickey Christmas
by Renee
(Texas USA)
This is a variation of the gift/white elephant exchange where you open one of an assortment of gifts or steal an already opened gift. This version of the game is geared toward singles who when they steal a gift from someone, get to kiss the person on the cheek before taking the gift. And there's no limit to stealing.
Give, Don't Get
by Morgan
(Colorado)
A great Christmas party idea is to give everything up. I know, we're American and to us hearing that makes us want to scream, but hear me out. To some of us, we decided "stuff" meant the world, but there are people in the world who only have what is on their back and have more joy than we can imagine. Many of us will not give up our security items to be "free" from our stuff, but there are things we can do to ignore it. This Christmas, if you work in a homeless shelter, or go help the poor, or just visit your neighbors, you will feel the true meaning of giving. Is that not what we celebrate, the gifts we can give in the holiday season?

Instead of the typical secret Santa, how about throwing a charity party? Have volunteer hour rewards, bake sales with benefits going to Africa, ornament parties but the ornaments benefit an underprivileged child, and when you buy it the money goes straight to their pocket.

I love the bright colored paper as mush as the next guy, but this year why not give up the greed, give up the "I want I need mentality," and by giving up these things give more? It can mean the world, which that new sweater/ car/ game boy won't.
Potluck Christmas Eve Brunch
by Lara M.
(Charlotte, NC)
Trying to plan a get together with your friends around the holidays can be difficult. Not only do the weekends tend to fill up very quickly with respective work events, but also family obligations and trips further cut into available dates. Not only may finding an open date that everyone can attend be difficult but you also may be without your best friends help because she had a family gathering.

Instead of stressing yourself out before you even get started, I suggest that you consider hosting a Potluck Christmas Eve Brunch so that every guest brings something to share. If you want to create a suggestion of menu suggestions it may make it easier to make sure all your favorites are included. Some of my favorites have been stuffed French-toast, scones with homemade lemon curd, smoked salmon with cream cheese, almond pastries, sausage and egg casseroles, bacon wrapped dates and scotch eggs!

Decorating for this event is a snap because more than likely you already have your tree up. Since you will be inviting your close friends and family, you should not lack in offers to help you straighten up. After coffee is served, those that don't have to rush off to buy last minute gifts can kick back, relax, play games and trade stories. This is a wonderful tradition that I have shared with my friends for many years.

Bedtime Stories
by Mary
(Houston TX)
In the week prior to Christmas we let our children choose and open 1 book each night and that is our bedtime story for that night. I buy all kinds of Christmas books at a local New/Used bookstore and wrap them beforehand.
Miniature Christmas Trees
by Julie
(New York)
If you are lucky enough to have pine trees in your back yard, by Christmas they are usually "dripping" pine cones. A great and inexpensive centerpiece or decorative table setting is to make your own miniature Christmas trees made out of pine cones.

To make these mini Christmas trees, you'll need a hot glue gun, glitter and a tree-shaped foam cone. Adhere pine cones (from your backyard or purchased)to the cone, sprinkle with glitter, add a few decorative bows and you have a wonderful and inexpensive table centerpiece.
Christmas for the Elderly
by Patricia T.
(PA)
Find a local nursing home and donate presents for the patients. There are many elderly residents who have no family to visit them or give them presents.
Christmas Displays
by Janice W.
(Hopkinton, IA)
One of the things our family likes to do is drive around & look at the Christmas decorations & lights. There's a little town about 30 miles from my home town that has beautiful lights. Even though they have a population of about 1,000, their little town is definitely lit up for the holidays. Everyone participates. Beautiful!
Advent Calender
by Patricia T.
(Latrobe. PA )
Celebrate with an advent calender marking the time until Christmas day.
The Perfect Christmas
The perfect Christmas would be having my family toghether having fun.I know it doesn't sound like much but all I want for Christmas is my family to be together.
Ornament Exchange
by Tammy
(Texas)
Try an ornament exchange at your next Christmas Party. It was a big hit in my office.
Family Tree Trimming Party
by Patricia T.
(PA)
Have a tree trimming party with the kids.
Snow Man Lollipops
by Sarah
(Columbia, SC)
My children love to make their own marshmellow snowmen lollipops. This is a simple craft that only requires a bag each of the tiny and large marshmallows, lollipop sticks, and food dyes and paintbrushes (or the food dye markers to make it even easier). You can add black licorice drops for hats if you like or just let them go bare.

Stick two large marshmellows onto the lollipop stick with a small marshmellow on top. Have the children paint them with a water and food dye paint mix. When the kids are done making the eyes, nose and buttons, they can cap it with the licorice jelly. Eat and enjoy!
Cheap Christmas Game Tradition
by Terra T.
(Marseilles, Il)
All the members of our family get together on Christmas Eve and we each bring five gifts that cost five dollars or less. We wrap each gift, then we put them in a box.

We all gather around the box and each person takes a turn opening a gift that they choose from the box. After you open your gift other people have the option of stealing your gift from you. This continues through the whole game.

Everyone ends up with five gifts but you just never know what you will get! It is so fun and a cheap Christmas game to play!!!
Charity Donation
by Patricia T.
(PA)
Every year we donate to Operation Santa Claus that gives gifts and food to struggling familes in our area.
Food Bank
by Patricia T.
(PA)
Ask guests to bring a non-perishable item for the food bank at your company or social group parties.
Click here to read or post comments
A Special Ornament
by Patricia T.
(PA)
Each year buy a special ornament for each child. When they marry, give these ornaments to each child for their tree.
Use Greens From Your Yard
by Patricia T.
(PA)
Pretty centerpieces can be made from a tray or bowl filled with fir, box wood or other greens, some colored Christmas tree balls, beads, etc.
Time Together
by Patricia
(PA)
Mom and I bake cookies together.
Holiday Charity
by Patricia T.
(PA)
Have each person at an office party bring a non- perishable item for the local food bank.
Christmas Surprise
by Demetri B.
(Brooklyn, NY, US)
Invite each family member you want to come individually, not telling them that you are having a Christmas party. Then as each person comes fill them in on what's going on and give them their gifts and enjoy your surprise party. Each and every family member will be surprised, excited, and amused.
Ornament Exchange Party
by Mary M.
(Louisville KY)
Everyone bring a unique, wrapped ornament (either handmade or store-bought -- decide beforehand), and a snack. Exchange the ornaments with a "Dirty Santa" exchange --draw numbers, and #1 picks a gift and unwraps it. #2 either picks a new gift or takes #1's gift. If your gift is taken, you get to pick an unwrapped one and open it. Munch on snacks before, during and after the fun!
Holiday TV Specials
by Patricia T.
(PA)
We watch as many holiday tv specials as possible as a family. It saves movie rental trips and fees.
Open Presents
by Patricia T.
(PA)
We open one gift on Christmas Eve after church services.
Easy Sparkly Ornaments
by Lizzie
(USA)
Gather the kids together to make homemade Christmas tree ornaments. Get a white styrofoam ball and decorate it by rolling in glue and then glitter. Untwist one end of a paper clip and insert to use as a hook.
Click here to read or post comments
Entertaining
by Patricia T.
(PA)
Find receipes that freeze well, and make as many of several different kinds that you have room to freeze. They save energy by being made in larger amounts, and save time when you serve them.
Make Your Own Christmas Cards on a Computer
by Patricia T.
(PA)
Make your own christnmas cards on the computer--there are many helpful sites.
Christmas Pot Luck
by Patricia T.
(PA)
Try a pot luck meal for family or close friends so no one spends a lot on the meal.
Reusing at Christmas
by Patricia T.
Some ideas for reusing and recycling this Christmas could be to make gift bags from store paper bags, reuse gift bags that you receive and make wrapping paper from newspaper comics, scraps of wraping paper or fabric. Sometimes you can find items for package decorations or ornaments at thrift stores.
Cookies
by Michelle
(Az)
Have a cookie decoration party!
Family Christmas Party
by Veronica S.
(Kingman, AZ, US)
All of the family gets together, regardless of any hard feelings during the year. We celebrate the birth of Christ and all of our blessings.
Christmas Cactus Tradition
by William W.
(Toronto Ohio USA)
My Mother's Christmas Cactus is over 50 years old. She started many years ago to give cuttings as presents at our Christmas parties. Many who have recieved the cuttings do the same with their friends and family. It's wonderfull to think how many generations from this one Cactus are a living reminder from Christmas past.
Charity Party
by Patricia T.
(PA)
Collect canned food for your local animal shelter st company parties.
Christmas Life
by Melissa
(Stamford,CT)
This Christmas a recent tradition was started which involved all family members getting their skills and techniques polished to showdown for the gameboard Life(R)! This definitely is a fun family game that anyone can play.

We're looking forward to next year when more family members will be involved and then upgade to the game to a three round competition.

Christmas is about sharing and giving as well as loving and celebrating. I can't tell you how funny and addicting this game came to be. It definitely sparked conservations that started off a tangent. But that that's life. You never know where it can take you.
Drawing Names
by Patricia T.
(PA)
When gift giving, drawing names of adult family members like married brothers and sisters helps cut down on shopping, and holiday spending.
Make Some Gifts
by Patricia T.
(PA)
Make some gifts to give this Christmas. Family scrap books, baked goods and craft items are nice as some gift ideas.
Cookie Exchange
by Patricia T.
(PA)
I bake 12 dozen cookies, and others bake 12 dozen, and then we exchange to have lots of different kinds.
Click here to read or post comments
Read a book
by Dana N.
(Lawton, OK USA)
My mom always read "Mr. Willoby's Christmas Tree" to us every Christmas Eve! It brings back such fond memories. I do it with my kids now!
Reading
by Elizabeth
(CA)
I like reading a Christmas Carol every year to the family out loud.
Countdown
by April G.
(IA)
We make a paper chain and countdown the days until Christmas.
Pet's Christmas
by Christie
(Louisville KY USA)
Don't forget to give a gift to the family's furry friends. A new sweater, a new toy, some gourmet treats. Let your child pick it out. Watch out for your pets at Christmas. There are so many things that entice pets to munch but that are really dangerous for them. Chocolate is a big no no, some pets even die after eating it. Don't leave that plate of cookies for Santa anywhere that Fido can get to it.
This site is a participant in the Amazon Services LLC Associates Program, an affiliate advertising program designed to provide a means for sites to earn advertising fees by advertising and linking to amazon.com.

Let's

Connect

!