Americana Party (for 1 year old)
by Danielle M.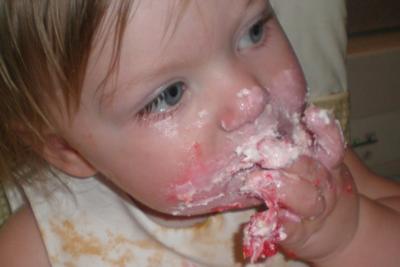 It was my daughter's first birthday, and since it was close to her father's return from overseas, we combined her party with a welcome home party and went with an Americana theme.

I made invitations with red, white, and blue stars, on navy blue paper, with simple white and light blue lettering.

We did not end up playing any music or games at the party, but we did have a slideshow going with pictures from her first year, as well as pictures from my husbands time spent away.

For the kids party favors, I put together bags with stickers, kazoos, glow stick bracelets, a small flag, small frisbee, and some tootsie pops.

Food served was typical American barbeque foods...deviled eggs, veggie tray, chips and dips, hot dogs, burgers, potato salad, macaroni salad, etc.

The birthday girl's smash cake was a homemade yellow cake, with white frosting, red frosting piped around the edges, and red-white-blue sprinkles.