37th Birthday Cake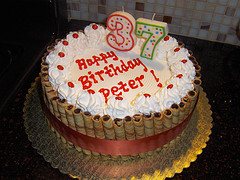 Adult 37th Birthday Cake
Here is a 37th Birthday cake idea that you could do for any year, just put the number on top.

This cake has something else that is neat, which are the treats around the cake, held in place by a ribbon.


Photo by:
Join in and write your own page! It's easy to do. How? Simply click here to return to Cakes.
This site is a participant in the Amazon Services LLC Associates Program, an affiliate advertising program designed to provide a means for sites to earn advertising fees by advertising and linking to amazon.com.

Let's

Connect

!