Purse Cake How-to's
It is always fun to create a special design for a cake, and a 3d cake is especially fun. Here is a creative and fun cake design: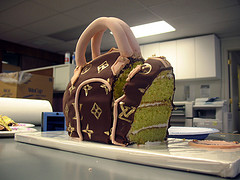 Photo by: http://www.flickr.com/photos/madmarv/ / CC BY 2.0

These adorable cakes that look like a purse could be used at a fashion party, and adult birthday party (for those who love to shop).
Thinking of fashion, a Barbie lover would love this cake at her Barbie party.
And for parties just for the girls, this purse would fit right in! Try it at a
How to create a Handbag Cake
It is easy to make a cake like the one below. Simply make 2 - 8" round cakes. When they are completely cooled, cut off one side of each cake so it can be flat to stand on it's side.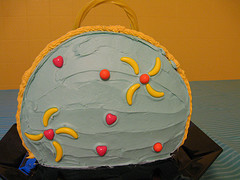 http://www.flickr.com/photos/dasqfamily/ / CC BY 2.0
Ice the newly cut flat side and ice each layer so that they will stick together. You may even want to insert toothpicks to hold each layer together.
Decorate and enjoy!

I suggest keeping the cake in one area (rather than taking it someplace in your car) so the two sides don't fall away from each other.

---
Have a Great Cake to Share?
Show us your great birthday cake and tell us how you did it!
---
Purse Party Ideas
Planning a Purse Party?
Be sure to include this Purse Party Game submitted by Krystal from Louisiana:
"Have everyone bring either a new or good used purse, wrapped in a box or in a gift bag, and play by the white elephant or dirty santa rules."
Great idea!

Need a refresher on the rules?
How to Play White Elephant or other party gift exchange games?
---
Let's

Connect

!