30th Birthday Party Ideas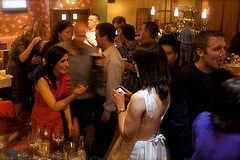 30th Birthday Photo credit:
The 30th birthday is one that often brings a big party.
When you think about it, it really is somethiing of a "rite of passage."
For years, the idea of going from 29 to 30 has been a sign of going to "adulthood".
Because of this, the most popular theme for a 30th birthday has to be having an Over the hill party.
This party is especially funny if the person turning 30 is among the first of their friends to reach this milestone, as they are suddenly declared "old" and needful of all sorts of remedies and contraptions used by an older generation.

Another popular party at the 30th birthday milestone is to have a Kids Party for Adults.

This is fun night where everyone going back to preschool games, and believe me it is always so much fun! Just for one night everyone can truly be kids again.





Other popular 30th birthday party ideas
Destination Party - pick a fun spot for travel that you and your friends can get to. Popular spots include Las Vegas, New York City, or the beach!
Night on the Town - pick a favorite restaurant or night spot and have everyone gather there for a fun 30th birthday celebration.

Scavenger Hunt - that's right - you're never too old for a

scavenger hunt

! Divide into teams and hunt for 30 things related to the birthday person.
More Themes - Pick any theme that the birthday person will enjoy from our

adult party ideas list!
Tell us about

your birthday party ideas

!
We would love for you to share all the details and maybe help inspire someone else with their own party.

Let's

Connect

!