Wizard of Oz Cake Ideas
I love the Wizard of Oz as a party theme, and have actually used it (more than once) as a party idea.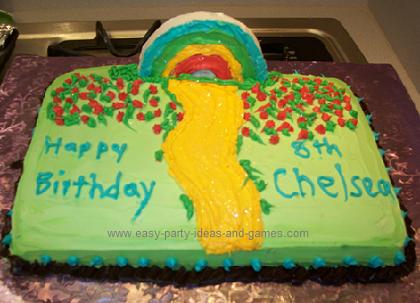 This is a Wizard of Oz birthday cake that I made, and was really pleased with the way it turned out.
Here is another view...after we placed the Wizard of Oz figurines on top (the birthday girl got to place them on the cake herself!)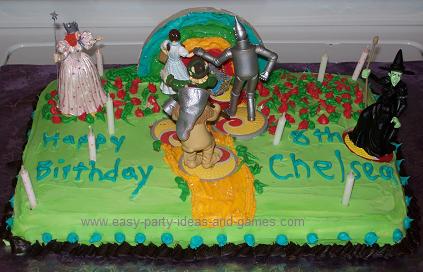 Want to know how I made the rainbow?
I used a circular piece of styrofoam, cut it in half, and then iced it with different colors of icing. So it looked like more cake (but wasn't)!
Here is another example of a fun cake design of the Wizard of Oz party theme: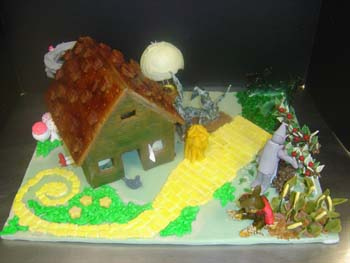 Photo by: http://www.flickr.com/photos/carabou/ / CC BY 2.0
Whether you are having a party for those who are young or young at heart, it is a really fun theme with lots of cake possibilities.
You can create a scene from the movie as your cake, such as making a green castle cake (to respresent the Emerald City). 
Rainbow Cake
Have you seen rainbow cakes? These are when the inside of the cake is different colors. Really special!

How to make a Rainbow Cake

Lots of Party Ideas!
Wizard of Oz party for teens and adults,
Add your Wizard of Oz Cake to this page!
Let's

Connect

!