Farm Cake Ideas
Cakes that have a farm theme have an opportunity for really creative cake designs.
You can create a barn cake that is a barnyard scene, complete with barn and animals.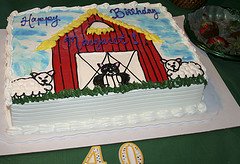 Photo by: http://www.flickr.com/photos/ennuiislife/ / CC BY 2.0

You can also create a cake that pays homage to a certain farm animal, such as a cow cake or horse cake.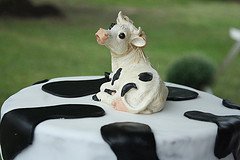 Photo by: http://www.flickr.com/photos/smoorenburg/ / CC BY 2.0

Here is a pig cake showing the three little pigs!
Other ideas include a drawing of a barn or a farmer's field.

---
Favorite Barnyard Party Ideas
Freeze dance - where each time you start dancing you pretend you are a different animal
Do an obstacle course of farm activities - pitching hay, brushing animals, etc.
Bring in a petting zoo of farm animals. Kids will love to brush a goat and feed them. Other animals could be a little pig, a pony and rabbits to pet.
More Farm Party Ideas
---
Let's

Connect

!

Add your Farm Cake to this page!