Crocodile and Alligator Cake Designs
A fun idea I've been seeing a lot of recently for childrens birthday cakes is a 3D cake.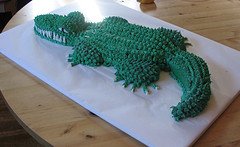 Photo by:http://www.flickr.com/photos/lincolnlog/ / CC BY 2.

The cakes on this page represent an alligator - which would be fun for a Peter Pan Party or even an Indiana Jones Party.
I've seen instructions on using different types of pans to create different shapes, but I think sometimes it might be easier to create your template of what shape you would like for your alligator, and then cut large sheet cakes into that shape.

Photo by: http://www.flickr.com/photos/jimk_9999/ / CC BY 2.0
I especially like this being a girl alligator, don't you? She's not so sinister - maybe it is the eyelashes! :-)
Add your Alligator Cake to this page!

---
Have a Great Cake to Share?
Show us your great birthday cake and tell us how you did it!
---
Let's

Connect

!
---
Shop for an
alligator cake pan