Airplane Cake Ideas
Isn't this cake fantastic?
This cake was decorated with fondant to give it such a smooth appearance. Fondant is also responsible for those great airplane and cloud shapes on the side! Using those tools, this would be an easy party cake to decorate!
This cake was obviously used for as a 1st birthday cake, but it would work for airplane party or anyone who loves airplanes, at any age!
You can also adapt the colors used - I think a deep blue sky would look great too.
Photo Credit: http://www.flickr.com/photos/chimothy27/ / CC BY 2.0
---
More Fun Cake Designs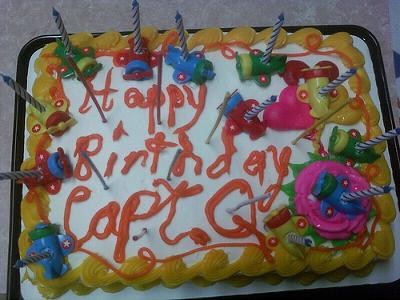 Photo by: http://www.flickr.com/photos/vox_efx/ / CC BY 2.0
This cute and fun cake would be a delight for any child to have! Easy to decorate as well with the cute toy airplanes. These double as candle holders. But you could also just use toy airplanes and put the candles on separately.   
---
Cake Pans
Wilton Aluminum Airplane Cake Pan
The easiest way to create an airplane themed cake, other than placing cute airplanes on top, is to use a cake pan in the shape of an airplane, like the one linked above.

---
Aircraft Carrier Cake

This air craft carrier cake was made for an airplane party by my friend Christine. They made a sheet cake and then cut off the corners to make the shape of an air craft carrier. They added a runway, etc. and toy airplanes. The kids loved it!
Add your airplane cake to this page!
---
Some Airplane Party Ideas
Let everyone make paper airplanes and fly them in a race or just have fun making them and flying them. 
Older kids can enjoy putting together and flying

balsa wood airplanes

. 
For younger parties, pretend to board an airplane and visit fun, exotic destinations.

Read more ideas at our page for an Airplane Party
---
Have a Great Cake to Share?
Show us your great birthday cake and tell us how you did it!
Let's

Connect

!
---
More to explore...
Airplane Cake Pan