Rock Star Cake
Wanna be a real star? You'll be needing a star cake!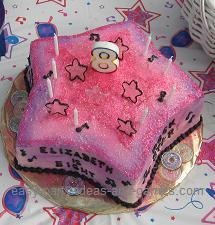 To make this cake...
Bake your favorite cake in a star shaped cake pan.
Make the cake two layers high, so you'll have room to write on the sides of the cake.
Frost in your favorite rock star color.
Write your Happy Birthday message on one side of the cake (our example says "Elizabeth is 8").
On other sides of the cake write "Rock Star", draw music notes, etc.
Cover in edible glitter, and insert picts of stars.
Voila! A cake any rock star would be proud to have! Now you are ready to Party Like A Rock Star!
Other cakes that could be used at a rock star party could be a

music cake

or a

guitar cake.
Click here for Rock Star Party Ideas to go with this rock star cake.
~Submitted by Elaine
---
Cake Pans 
The easiest way to make this cake is with a
star cake pan.
Let's

Connect

!