Cooking Party
Kids love to spend time in the kitchen, so time for a chef party for great birthday kid party ideas!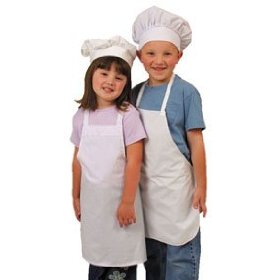 The key to having a successful chef inspired party is organization.
You'll need to have activities planned to keep the kids occupied while their food is cooking.
You'll also want to have everythiing laid out and planned out to minimize mess!
Consider how many cooks will fit into your kitchen comfortably, and use that to determine the number of guests you can invite.
A little careful front-end planning can create a really memorable and fun party.
---
Easy Party Invitations
An easy and inexpensive idea is to use Recipe Cards for your invitation.

You could also make a mock recipe book, with the ingredient for a party: mix friends, laughter, food, etc.



---
What to cook?



Some fun ideas of what to cook or create might be:

 Individual Lasagnas

Individual Pizzas
Decorate cookies
Decorate cupcakes
Gingerbread Houses

Do you notice a trend?
Whatever you decide to prepare, it is best to plan to make something that can be assembled with minimal cooking.
The two items on this list (pizza and lasagna) are easily assembled and then put into the oven to bake.
Then it is game time!
---
Party Activities and Games
Have an apron and chef hat for each child to wear.
Decorate the aprons with fabric markers.
Decorate place mats
Use a plate or mug decorating kit so everyone will have a personalized plate (or mug!).
Play the Egg and Spoon Race
Try this fun game! Take turns throwing plastic pieces of fruit thru a hula hoop!
Create wooden spoon puppets (and then put on a puppet show with them!)
Plant some herbs in little flower pots.
Watch a fun cooking movie like Ratatouille
Make pretend food out of playdoh, modeling clay or sculpey
---
More Creative Childrens Birthday Party Ideas