Boat Cake Ideas
Cakes having to do with water and boats are varied and can take all sort of forms. Here are a few fun cake decorating ideas for you...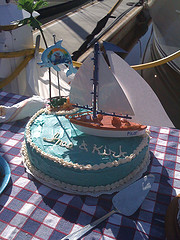 Photo by: http://www.flickr.com/photos/aghrivaine/ / CC BY 2.0

The easiest way to make a boat themed cake is to make the cake blue to resemble the water, and placing a boat on top, like these examples show.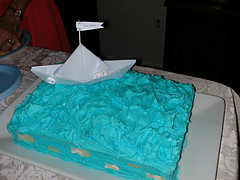 Photo by: http://www.flickr.com/photos/natapics/ / CC BY 2.0

A cake with a boat theme is sure to please any water lover.  
As another idea, you can also draw a boat on the cake.
Add your Boat Cake to this page! 
---
Shaped Cake Pans
If you love cakes that come in shapes, how about shopping for a
boat cake pan
---
Pirate Ship Cakes
You can adapt a pirate ship cake to be the boat of your dreams!

---
Have a Great Cake to Share?
Show us your great birthday cake and tell us how you did it!
---
Let's

Connect

!
---
Water Cakes
Other fun water related homemade birthday cake ideas are: