Fondant Bathtub Cake
I ran across this cute cake and just had to share it with you.
Evidently, it was used for an adult birthday party.
But with a few changes, you could use this for a spa party or anything where pampering or the love of pampering would be involved.
To achieve the smooth look and to make all the "accessories", fondant was used. There is a fondant recipe below!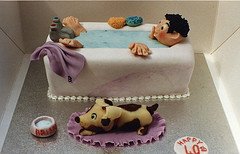 Photo credit: http://www.flickr.com/photos/exfordy/ / CC BY 2.0
Ever see anything or make anything like this? Share it!

---
Easy Fondant Recipe
What you'll need to make fondant:
1 tablespoon + 2 teaspoons unflavored gelatin
1/4 cup cold water
1/2 cup Glucose  (can't find? Try light/clear corn syrup)
2 tablespoons solid vegetable shortening
1 tablespoon Glycerin
Flavoring to taste (For example, Vanilla or Almond)
Any icing color
7 1/2 cups sifted confectioners sugar
 
How to make fondant:
Combine gelatin and cold water and then let it stand a few minutes until it is thick.
Place mixture in the top of double boiler. Heat and stir until dissolved. Add glucose and mix. Stir in shortening and just before it is completely melted remove mixture from heat.
Add the glycerin, plus any flavoring and color. Cool until lukewarm.
Pour confectioners' sugar into a large bowl and make a well. Pour the lukewarm gelatin mixture into the well a little at a time, and stir with a wooden spoon until no longer sticky. Knead by hand or with a mixer with dough attachment. Knead until the fondant is smooth, easy to work with, and does not stick to your hands.
I suggest the first time you try out the recipe in advance to make sure it works well for you. You can store the fondant in an airtight container at room temperature up to a week and refrigerate if storing longer. When ready to use, knead it again until soft. If you do refrigerate it, let it return to room temperature before kneading. (Do not freeze).
Troubleshooting:
If fondant is too soft, add more sugar.
If fondant is too stiff or dry, add water or more solid vegetable shortening.


---
Have a Great Cake to Share?
Show us your great birthday cake and tell us how you did it!
Let's

Connect

!
---
Fun Fondant Cake Designs 
Add your Bathtub Cake or other fondant designs to this website!