Adult Birthday Display
We just saw a great adult birthday party display and wanted to share it!
Add this one to your list of birthday celebration ideas!
Recently, our friend Jimmy celebrated his 50th birthday.
Pamela (Jimmy's wife) threw him a great 50th Birthday party, complete with a buffet, dancing, and a DJ!
She also created a really nice display at the entrance of the party...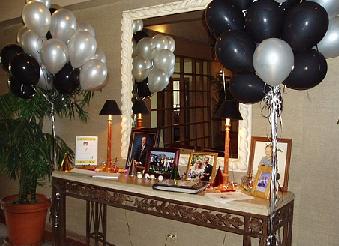 On the table, Pamela included:
framed photographs of significant life events
a photo album, showing Jimmy's life from birth to present.
a guest book, so guests could record their wishes for Jimmy. Several folks wrote some pretty silly stuff such as a funny 50th birthday poem and 50th birthday jokes. This will be a great momento of the 50th birthday celebrations.

Additions to your Adult Birthday Display
Need another fun idea?
There were disposable cameras on the tables.
Everyone took photos, and they ended up with some great shots! A great way to make special adult birthday parties even better!
Another alternative is to ask each guest to send you ahead of time a story about the person.
It can be any sort of rememberance, funny or not.
If you bind these into a scrapbook you can have a great collection of memories that is really treasured.
I have done this twice, once for my in-law's golden 50th anniversary party, and also for my own father's 70th birthday party.
Sometimes the contributions are just a sentence or two, something like "I remember when you were a little boy, you were great at playing marbles."
But they are all special and a gift like this is priceless.You could use these birthday ideas with any adult party.
Here are links to some milestone birthday celebration ideas:
Happy 50th Birthday Jimmy! Great job Pamela!
Let's

Connect

!

Return to Adult Birthday Ideas