TV Cake and Computer Cake Designs
I'm often asked for fun cake designs for an adult birthday party cake.
I always return the question with "what do they like to do?". Many times the answer is "watch tv", "watch sports on tv", "watch movies on tv", and so on.
So a television cake would be fun. You could use a rectangular cake and make the cake be the tv screen.
Here is an image of another fun idea - asleep on the sofa with the TV on - sound familiar? Create your decorations out of fondant or use toy sofas and people from a toy dollhouse collection.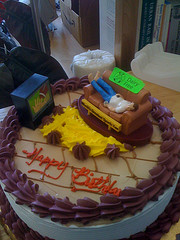 Photo by: http://www.flickr.com/photos/shazbot/ / CC BY 2.0
---
Who's got the Remote (Cake)? 
Create a cake to look like a remote control using candies as your buttons.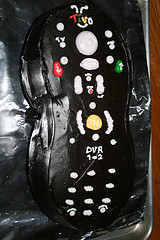 Photo by: http://www.flickr.com/photos/jasonmundy/ / CC BY 2.0

Add your TV Cake to this page!

---
Computer Cake Pans
If we aren't on the TV, we are probably on a computer, right? You create a computer cake in much the same way, or use a
computer cake pan
to create your perfect cake.
---
Have a Great Cake to Share?
Show us your great birthday cake and tell us how you did it!
---
Let's

Connect

!
---
Birthday Fun