Fairy Cake Ideas
This darling fairy toadstool cake design is truly unique so I had to share it!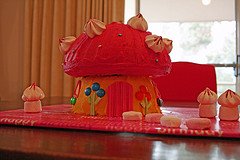 Photo by: http://www.flickr.com/photos/9417976@N03/ / CC BY 2.0

Another fun idea for a fairy party is to use a
Tinkerbell cake pan
. Afterall, she is probably the most popular and most loved fairy of all time.
Another cake option for a fairy party is to add some fairy figurines to the top of a cake.
And what do fairies love? Flowers, and all things of nature. So as another option, a flower or daisy cake would be loved by all your little fairy guests!
Ideas from our visitors (like you!):
---
Fairy Food (in addition to Fairy Cake)
Site visitor Olivia from Australia. Shared a recipe for Fairy Bread. She says "this is a great party treat for all ages"
Fairy Bread

Ingredients:
White bread
100's & 1000's
margarine
1. get a piece of white bread and cut it in half so its a triangle
2. spread all the pieces of white bread with margarine
3. sprinkle 100's & 1000's all over the white bread
4. EAT AND ENJOY
Let's

Connect

!
---
Have a Great Cake to Share?
Show us your great birthday cake and tell us how you did it!