Bunny Party
After seeing the cute photos from this Bunny Theme Party, you'll just have to throw one yourself!

My friend Christy threw a bunny theme party for her daughter.
She "hired" an older girl to bring Rex, her rabbit, for all to pet. That was a big hit.
They also played pin the tail on the bunny, did the bunny hop, and did face painting.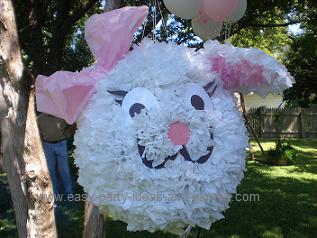 Isn't this the cutest bunny pinata? For this homemade bunny pinata, she used posterboard to make the ears.
Making a pinata is easy! Here are the easy steps to making your own pinata.
Finally, birthday bunny cupcakes!

If you'd rather have a cake, check out our gallery of bunny party cakes.
So the end result of this inspired rabbit party? It was a success of course!
Don't limit this cute idea to bunny lovers. Bunnies could be used for a cute Easter party theme too!

Let's

Connect

!