Webkinz Cake
A Webkinz Party is a fun and favorite kid party idea...and you'll want to have a great birthday cake for your party!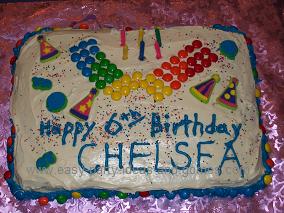 This design celebrates the colorful logo and is very fast and easy to make.
Start with a cooled cake in whatever shape you prefer.
Ice the cake in whatever color you wish (we used white to make the other colors stand out!).
Use M&M's to decorate the shape of a "W" so that it has a rainbow effect like in the photo.
Hint: Designing the placing of the M&M's takes a little trial and error to make it look just right. Practice on a plate before you put them on the cake.
Pipe your favorite color around the bottom, and then place M&M's on top of this piping for added color.
We also added candy shapes (from the cake decorating department at the grocery store) to our decoration.

Add your own Webkinz Cake Ideas

---
Webkinz Party Ideas
Read all about the games, decorations and more at our Webkinz Party.

---
Make your own matching pinata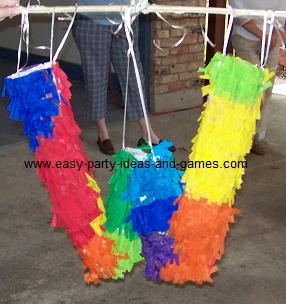 Here is the matching piñata for the party...
Let's

Connect

!