Christmas Cake Ideas
Do you need a Christmas cake idea?
Every party needs a cake, and Christmas parties are no exception.
Here are some fun cake designs to go with your Christmas party ideas.


Photo by:
http://www.flickr.com/photos/tomeppy/ / CC BY 2.0

This cute Christmas themed cake would work for just about any party. Decorated trees, gifts (made out of squares of chocolate - yummy!), and a nice bow decoration around the outside of the cake. It is related to the season, but generic enough to work for any party - whether an adult Christmas party, one of the office, kids or teens.
---
Christmas Tree Cake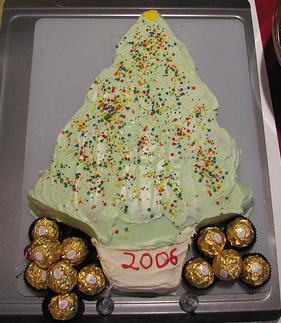 Photo by:
http://www.flickr.com/photos/soundfromwayout/ / CC BY 2.0
To make a cake like this, you can use a Christmas tree cake pan. There are several cake pans available in different sizes and materials, or you can bake a sheet cake and "carve" it to the desired tree shape.
This tree is decorated with sprinkles. Some other cake decorating ideas for decorations on a Christmas tree cake are to use jelly beans, gum drops, gummi bears, M&Ms and peppermints.

---
Nutcracker Cake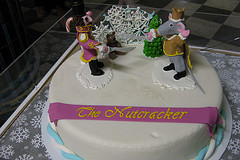 Photo by:
http://www.flickr.com/photos/8136496@N05/ / CC BY 2.0
The Nutcracker ballet is so closely associated with Christmas!
To make nutcracker themed cake, it could be very easy to just put a nutcracker on the cake. You can find them in all sizes at just about any store! If you can find very small nutcrackers, you could place them all around the bottom of the cake.
Another idea that this cake uses it to decorate with figurines representing characters from the ballet. Characters to include could be the Sugar Plum Princess, the evil Mouse King, and of course the Nutcracker.
---
Other Fun Holiday Cakes
Another fun Christmas idea that we have an example of is to serve a snowman cake.
There are also very cute cake pans that you can purchase in all sorts of shapes!
Shapes include:
Candy Canes
Santa
Reindeer
Alpine Villages
Gingerbread Houses
Christmas Bears
Angels
Sleighs
Nutcrackers
You can also choose to create a favorite cake as a toy, such as ball, doll, or train.
Shop for
Christmas Cake Pans
---
Share YOUR Best Cakes!
Have you ever made a really cute cake? Share it and I'll add it to the website!
Click here to submit upload a photo of your cake.

Let's

Connect

!
---
Related Christmas Pages
Christmas Party Food and Recipes
Shop for cute
Christmas Cake Pans