Cookout Menu Ideas
Memorial Day, July 4th and Labor day are big grilling days across the U.S. Summertime especially, you can really enjoy some great feasting!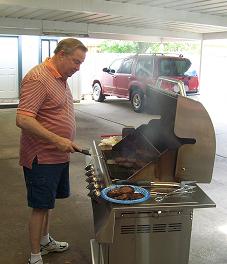 Here are some menu items that are often included at cookouts in different areas of the country:
Hamburgers
Hot Dogs
Sausage
Chicken
Potato Salad (Dill, Mustard or Mayo varieties)
Cole Slaw
Deviled Eggs
Corn on the Cob
Watermelon
Pickles
Beans
Bread or Texas Toast
Chips with salsa or guacamole
Condiments - mustard, mayo, ketchup
Fixings - lettuce, tomatoes and onions
Apple Pie
Key Lime Pie
---
Try something New - Cookout Recipes
Jalapeno Bites
12 fresh jalapeno peppers
8 ounces cream cheese
12 bacon strips, uncooked
Cut the tops off peppers and hollow out the inside. Fill each with cream cheese. Place one end of the bacon strip over the top of the filled jalapeno and continue wrapping. Spear toothpick in through bacon and pepper so that it doesn't unwrap during grilling. Grill until bacon is cooked.

Watermelon ice
1 tsp. unflavored gelatin
2 Tablespoons water
4 cups seeded, cubed watermelon, divided
2 Tablespoons lime juice
2 Tablespoons honey
In a microwave safe bowl, sprinkle gelatin over water. Let stand for 2 minutes. Microwave on high for 40 seconds, stir. Let stand for 2 minutes or until gelatin is dissolved. Pour into a blender or food processor. Add 1 cup watermelon, lime juice and honey. Cover and process until smooth. Add remaining melon, a cup at a time, and process until smooth. pour into a 9 inch square dish. freeze until almost firm. Transfer to a chilled bowl. Beat with an electric mixer until mixture is bright pink. Pour into serving dishes. Freeze until firm. Remove from the freezer 15 to 20 minutes before serving. Makes 4 servings.  
---
Let's

Connect

!