Pumpkin Cake
People have been carving lanterns out of turnips, beets and potatoes for centuries. The tradition was brought to America and pumpkins, a native crop, was found to be perfect for carving.
No need to carve this though - until you are ready to serve!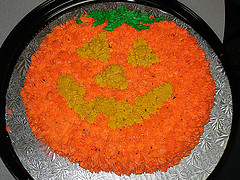 Photo by: http://www.flickr.com/photos/mukluk/ / CC BY 2.0
---
Easy Cake Pans
Another idea is to us a
pumpkin or jackolantern cake pan
.
Add your Pumpkin Cake to this page!

---
3D Cakes
You can also use a round
ball cake pan
and decorate to look like a jack-o-lantern. Using a ball cake pan, you'll have a really cute 3-D effect, and the cake pan is really useful to have for future cake designs.
---
Let's

Connect

!
More Fun Halloween Designs